Tags
Baptism, Belief, Believe, Bible, Blessed, catechism, Catholic, Catholic Church, Catholicism, Christ, Christian, Christianity, Church, Creed, Faith, Father, Gentile, God, Gospel, Heal, Holy, Holy Spirit, Jesus, Lord, love, Mary, Mercy, Religion and Spirituality, Religious text, Roman, Roman Catholic, Sacred, Saint, Scripture, Son, Spirit, study, Trinity, True, Truth, Word
St. Philip was a native of Bethsaida in Galileee.  Our Lord called him the day after St. Peter and St. Andrew.  He was a married man with three daughters.  He left all to follow Christ.  After Jesus' Ascension, he preached the Gospel in Phrygia, a part of Asia Minor, then a province of the Roman Empire.   He was buried at Hierapolis in Phrygia.
 FEAST DAY:  May 3
PATRON OF:   History, pastry chefs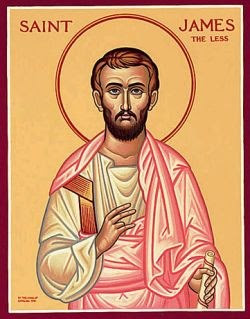 St. James the Less, was the son of Alphaeus of Clophas.  His mother, Mary, was a close relative of the Blessed Virgin.  That is why he sometimes is called "brother" of the Lord, according to Jewish custom.  He says he was a witness of the Resurrection of Christ.  St. Paul consulted St. James the Less about the Gospel.  James is also called a "pillar" of the church.  Tradition says he was the first Bishop of Jerusalem.  Historians Eusebius and Hegesippus say St. James was martyred for the Faith in the Spring of the year 62.  They gave him the surname of "James the Just".   He authored an epistle and the Councils of the Church confirm its authenticity and canonicity.   He preached to those Christians outside Palestine, the "twelve tribes that are in the Dispersion."  He endeavored to guide and direct them in the faith.  
 FEAST DAY:  May 3
PATRON OF:  Pharmacists